a little o' that
Produced by John Devine 2010
All songs ©devinesax-ASCAP
except track 11: ©Thelonious Music Corp-BMI
The first law of thermodynamics informs us that energy can neither be created nor destroyed; it only can change forms. When John Devine walked into Wild Sound Studios for the sessions that resulted in the creation of this recording, he amassed the energy of his rich musical past, as well as that of the heritage of modern jazz and that of his fellow musicians. Something happened here. Musical energy changed form.
From the avant blues of "Sam 'n' Hannah" to free-form sax parlays, John's energy morphs into large forms. His muscular sax playing supplies the heat that increases the internal energy of the overall system. His tone evokes memories of Pharaoh Sanders or even Sonny Rollins playing at the bridge. And his band mates are no slouches either.
William Reed Lang (tenor sax) provides counterpoint to John's outfront playing. Witness the double saxes—a modern re-imagining of Tenor Madness. Pianist Jon Pemberton recalls the studied sonic effulgence reminiscent of Bill Evans, yet with a curling modern edge to his playing. On tracks 1 and 11, Jon reinforces matters with his trumpet… great embouchure, great tone, great ideas.
Bassists Brock Thorson (tracks 3 and 7) and Tom Lewis (track 2) lay down beguiling pizzicato lines that throw down the gauntlet for the other players on these particular tracks. Everyone rises to the challenges.
Tom Wells on tuba rumbles beautifully, an underground railroad of tone and creativity. Michelle Kinney on cello and Bobby McFarlin on electric guitar bring in a spatial dimension that would be missed were it not included. Scott Mateo Davies evokes flamenco sketches from his Jose Romero guitar. And that's Alden Ikeda thumpin' them pagan skins… and wouldn't Max Roach be proud?
Penultimately, this recording is about John Devine and his ability to transfer the energy of his personal creativity and the tradition of jazz into a different context, a context informed by his unique musical perceptions. Ultimately, this recording is about sound. John has been a leading force in the Minneapolis music scene for many years, playing in many contexts from solo gigs to the much-heralded Imp Ork Orchestra. The scene promises to remain in strong, creative hands for a long time. Indeed, seldom has a saxophone found better hands. And, yes, such good energy. -Michael O'Connell
Sample Track: First in Flight
Special thanks to all the great musicians who contributed their voices to this project. Also thanks to Matt and Gerard at Wild Sound, Bruce, Nick, Michael and the Loring Pasta Bar.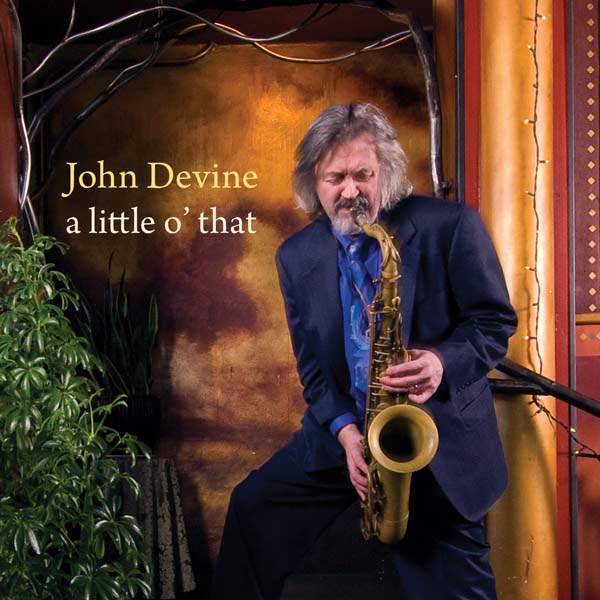 Tracks
First in Flight
Mirepoix du Nord
Mall Bangs
Jumpin' at the Drop of a Hat
Flamenquito Numero Dos
A Pail of Water
That Little Light (for Don Cherry)
Eelpout Shout
Sam 'n' Hannah
Amok Goes Awry
North of the Sunset (Monk)
Squirrel Carpaccio
All tracks composed by John Devine except for #11 (Thelonious Monk)
Co -Composers
Track 2: Jon Pemberton & Tom Lewis
Track 4 & 10: Bill Lang
Track 5: Scott Mateo Davies & Michelle Kinney
Track 6 & 12: Michelle Kinney
Track 8: Jon Pemberton
Personnel
John Devine – soprano, alto, tenor saxes
William Reed Lang – tenor sax 3,4,7,10
Jon Pemberton – piano 2,8; trumpet – 1,11
Michelle Kinney – 'cello 5,6,9,12
Scott Mateo Davies – guitar 5
Bobby McFarlin – guitar 1,11
Tom Wells – tuba 1,11
Brock Thorson – bass 3,7
Tom Lewis – bass 2
Alden Ikeda – drums 1,3,7,11
Photos ©Bruce Christianson
Design: Nick Lethert
Liner notes: Michael O'Connell
Recorded & mastered by Matthew Zimmerman,
Wild Sound Studios, Mpls, 2009